In March and April we visited Kenya again and visited the usual projects that we financially supported.
New was our first visit to the Munengi Pri. School in Naivasha, Kenya. About 200 children go to this school, divided into eight classrooms, as far as you can still speak of premises.
This school was built about 35 years ago and looks like nothing changed after that time. The floor was sand, all the windows and window frames were gone and the roof leaked. In short, a sad thing.
In 2018, our foundation received a request for help. The question in itself was of course not so difficult but getting the necessary finances though. This has been achieved to a large extent so that we could leave with peace of mind in this respect. Beforehand, we had already announced that we would arrange everything on the spot ourselves.
The first meeting was excellent in terms of alignment and agreements. That immediately made you feel good. All the material was purchased, checked and processed on site. The honesty area to say that we have rarely experienced that there was so hard work being done by the local people led by Cecilia Wairimu Mburu. She was the driving force behind the project there.
As a result, all the material was actually used and nothing could be "borrowed".
The final result may therefore be there. All premises have been given concrete floors and also new frames of course with glass. We couldn't fix the roof. That had two reasons. The first was that the available money was up. The second reason was that the class representatives wanted to prioritize the draft and dust-free of the premises in e.g. winter.
We hope to find the finances next year to repair the roof, place doors and buy furniture.
It is very sad to have had to learn that our "driver", Mrs Wairimu Mburu recently died unexpectedly at the age of 41. We will certainly miss her in the future of this project.
For the 30 children of the children's home Divine Mercy Childrens Home and School, thanks to making the finances available, we were able to buy food through the sale of books/cards. With a.o. cabbage, cornflour, oil, rice and sugar can be improved for a while.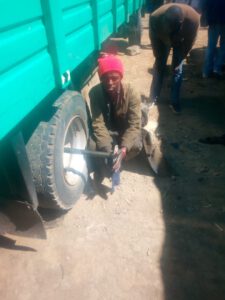 The educational main project of our foundation, which has been running over several years, has also had the necessary attention. Two students will finish their school this year and/or continue the study. A young man has become a car mechanic and does very well. He hopes to have completed everything this year.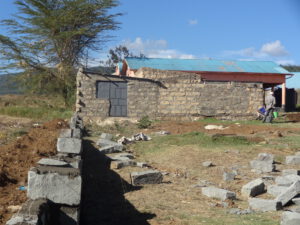 For another children's home, the foundation had been given money to buy two cows so that the children could get milk (products) there. Unfortunately, this could not continue because cows had been stolen in that area and it was not dared to buy cows. Instead, we have built part of a fence behind which future cows can be held and there is less fear that they will also be stolen.
All in all, we can look back on a particularly successful journey. Everything we had planned we could have done, thanks in part to the financial support of our sponsors. For this, our sincere thanks.
Best regards
Janet Eikelenboom, Chairman.